Sommarmatchen för forskare
Ta din forskning vidare med Sommarmatchen. Skapa nytta av din forskning och ta nästa steg med din idé.
Få ut det mesta av din forskning och ta nästa steg för att nå ut med din forskning och skapa nytta i samhället. Sommarmatchen är ett entreprenörskapsprogram hos företagsinkubatorn LEAD som fokuserar på att hjälpa till att utveckla idéer sprungna ur forskningen vid Linköpings universitet mot marknadsanpassade produkter och tjänster. Genom fem veckors intensivt arbete av studenter från Linköpings universitet, ger Sommarmatchen ditt projekt nya möjligheter genom exempelvis marknadsanalys, kartläggningar eller prototyparbete.
Syftet med Sommarmatchen är att ge ditt projekt vad det behöver för att nå nästa steg. Du sätter ett mål för studenterna som arbetar med ditt projekt, exempelvis att hålla möten med potentiella kunder, testa lösningen i realistiska villkor eller genomföra den första affären med en kund.
Ur en forskares perspektiv
Entreprenörsprogrammet som skapar nytta av forskning
Magnus Jonsson, Professor på Linköpings universitet, deltog med sin forskning i Sommarmatchen 2021; en ny typ av känslig temperatursensor, tillverkad genom tryckt elektronik. Under fem veckor under sommaren utförde två studenter marknadsverifiering av idén, vilket innebar att försöka identifiera och utvärdera potentiella användningsområden och kundsegment.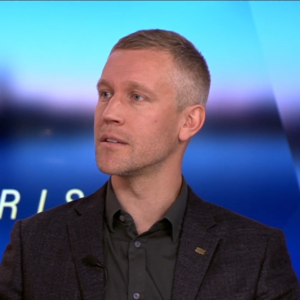 Sommarmatchen gav mycket intressanta resultat som vi nu jobbar vidare med för att ta SensEats till nästa steg. Det var roligt och lärorikt att jobba med drivna och talangfulla studenter inom Sommarmatchen, som jag varmt kan rekommendera till andra forskare.​
- Magnus Johansson, Prof. LiU
Äger du idén och är anställd vid Linköpings universitet?
Bidrar idén till hållbar tillväxt, kopplat till SDG?
Finns någon tillgänglig för kontakt under perioden (vecka 24, 25 och 26)?
Kan någon vara tillgänglig under uppstartstillfällena (april/maj)?
Finns någon tillgänglig under slutet (mitten/slutet av augusti)?
Kan du konkretisera lämpliga mål för studenterna?
Kan du konkretisera de färdigheter du letar efter hos eleverna?
Om du checkade av alla rutor ovan har du möjlighet att vara med i Sommarmatchen.
Ett tydligt uppdrag som förklarar vad alla inblandade kan få ut av arbetet resulterar i bättre ansökningar, så det är värt att investera lite tid i att skriva en intressant projektbeskrivning.
Har du en forskningsidé som du vill diskutera för att ta nästa steg och eventuellt vara med i Sommarmatchen? Fyll i ansökningsformuläret nedan, så kontaktar vi dig för att diskutera vidare.
Let us help you explore the market needs and find a strategy for commercializing your innovation. We provide students and employees at Linköping University support to carry out initial verification activities with the aim of supporting the commercialization, application and exploitation of innovative ideas and business concepts. The verification support is funded by the Vinnova program 'Verifiering för Tillväxt' (VFT).