As a member of LEAD, you are offered
As a member of LEAD, you get professional help and access to our 8 tools, which will help you becoming successful.
LEAD by numbers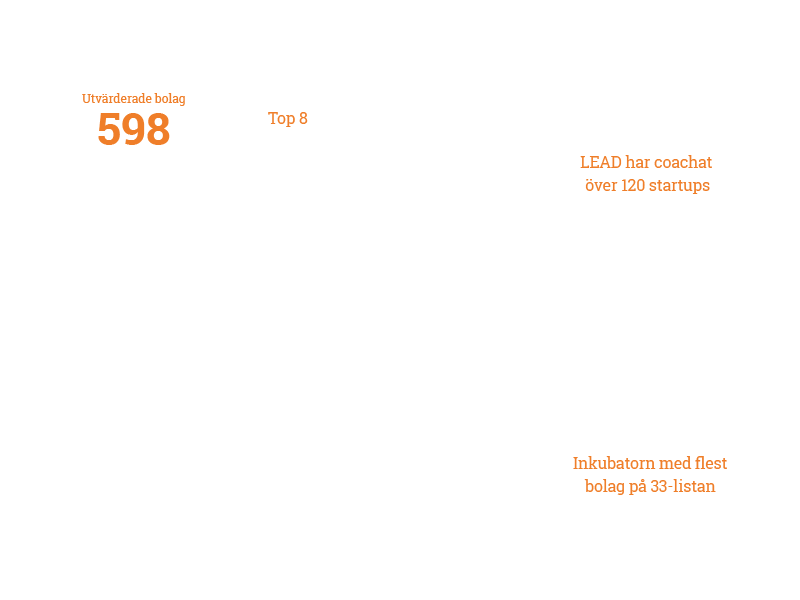 If you want to run a startup?
There are many different ways to build successful companies. Right now you have the chance to become an Entrepreneur in Residence with us at LEAD and develop innovative research ideas to high potential startups.
Trainee Program
LEAD Entrepreneurs in Residence is about transforming new ideas or technologies that can change the world into a startup company that has the potential to succeed and become the future growth company. During a 6 month trainee program, you get support and coaching while the team with LEAD entrepreneurs lays the foundation for innovative ideas or an early technical application to find their place in the market.
We have four slots open as LEAD Entrepreneur in Residence and looking for someone who is at the beginning of your career, or at the end of your education and want to run a startup project . After the program you have a gold position to create a prerequisite for a startup with you in the driver's seat.
Other projects run by LEAD
Not something for you? There are other ways to get in touch or work with startups. Here you can read about 2 projects that LEAD works with right now.
Ignite Sweden
Establishing tighter bonds between Sweden's vibrant startup scene and the country's thriving, established companies is necessary to increase the pace of innovation and economic growth. This project aims to initiate collaborations between startups and established companies. The project is led by THINGS, STING and LEAD, in collaboration with SISP and funded by Vinnova.
Venture Arena
Venture Arena is Sweden's obvious matching arena for future growth companies seeking key personnel. We match resources to new and existing startups to make them even stronger in their growth.
Venture Arena is organized by LEAD together with the University Innovation Office, LiU Innovation, with funding from the Region Östergötland.
Contact us if you have any questions and wonder how we can help you. We have all the tools for your success.
Contact us!
Get updates about what happens at LEAD and at the business in LEAD directly through mail.