Educate yourself to become the future leader of a successful startup
LEAD Entrepreneurs in Residence
Do you want develop you leadership skills, be part of successful startups and work with ideas that might change the world?
LEAD Entrepreneurs in Residence is a trainee program focusing on entrepreneurship, and offers you a unique opportunity to develop as a leader and an entrepreneur.
The application for the program 2022 and will open in December 2021.
During six months you will be part of a business developement team with  a clear mission - to transform new ideas or new technologies into startup companies with the potential to succeed in the market. There to support you is a team of experienced business coaches. They will provide you with the right tools for you to push the projects in the right direction.
As an Entrepreneur in Residence you'll get:
Aquire lots of tools and methods in the field of business development, which you then use in your work with the projects of the program.
Evaluate the business potential of the projects while receiving coaching from experienced business coaches and support of modern business development methods.
Individual coaching with a designated business coach at one of Swedens' leading corporate incubators.
Opportunity to work hands-on with real business cases that have the potential to become a successful company.
Work in an entrepreneurial context with other entrepreneurs and be part of a Startup Community.
Salary for your work and the opportunity to position yourself as a key member / co-founder in a tech startup.
Initially, the team will be assigned a number of projects in the form of ideas and technologies based on research and/or companies in the region. Your task will be to identify potential markets, verify business ideas and develop possible business models for these projects.
Some of your tasks will include:
Marketing Research
Networking
Interviews with stakeholders
Development of processes and much more.
Your profile
You are a team player with a high level of social competence. You have a strong analytical mindset and is committed to deliver high quality work.  You are fluent in English both in speech and writing.
Alot of your time in the trainee program is based on teamwork and we want to put together a group of people with different strengths and knowledge. Therefore, you can apply to the program even if you don't identify yourself with all the above described sets of skills.
Start of program
The program starts in early September each year and the application period is open between December and February.
Limited spots available each year
Do you have questions?
Please get in touch with us if you have any questions.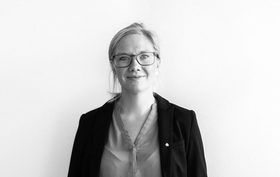 About recruitment?
Anna Jansson
anna@unitalent.se
+46 13-28 89 24
Take the chance to become the driving force behind a tech startup